During 26th and 28th of  October, the Municipality of Psara had the joy and the honour to host a delegation of the Municipality of Lapithos Cyprus constituted from the Mayor  Mr. Neoptolemos Kotsapas, the deputy mayor  Mrs. Soyla Moyrettoy, the municipal advisers Mr. Dimitris Minas and Andreas Kompos, the Chairman of the Refugee Club A "Lapithos" Andreas Stayrinos, as well as the members of association "Eleytherios Eleytherioy" and Giannos Kompos.
Psara and  Lapithos are connected historical with a incident which is not particularly known in the wide public. The big hero Konstantinos Kanaris in the beginning of Revolution of 1821 anchored  in the harbour of Lapithos with the aim to  take supplies and braves for the fight. He was accommodate in the house of the lapithian Paspallas in the parish of Agia Paraskevi in Lapithos, where the evening became deliberation of notables of the Lapithos and Karaba areas. The next evening Kanaris sailed with his boats transporting in Greece important economic and military help. 25 braves 16 of whom came from Lapitho left with him . The Turks were informed about that a few days later and the axe fell heavy, chopping the notable Hadjilias along with other Lapithians in Nicosia during the slaughters of 9 July 1821.
Today almost 200 years later, after the hospitality of the hero from Psara from the Lapithians, their descendants come to honour the birthplace of Kanaris and the Municipality of Psara returns  the hospitality.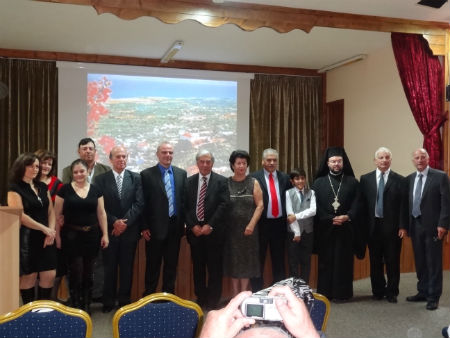 The delegation came the evening of 25 October in Psara. On Saturday the 26th of  October tour our island and the afternoon watched the theatrical representation "the Ceremony" by the Cultural Association of Neochori Chios "Agios Minas". On Sunday the 27th of October in an official ceremony at the Room of Multiple Uses of the Municipality the delegation was welcomed by the Mayor of Psara. Mr. Andreas Stayrinos via a very beautiful presentation introduced to us the agonizing Lapithos, while the  Mayor Mr. Neoptolemos Kotsapas  revealed unknown aspects from the visit of Kanaris in Lapithos. Afterwards the two Mayors exchanged gifts. The event closed with a presentation of photographs with pictures from the turkish dominated today Lapithos.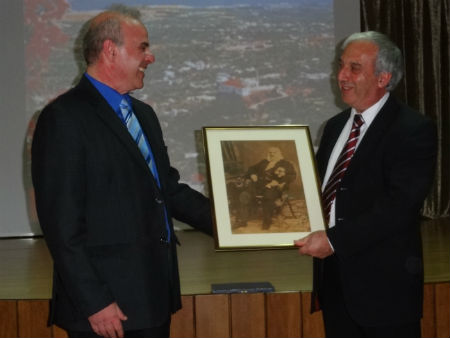 On Monday, 28 October the delegation attended the established doxology in the Temple of Metamorphosis and afterwards  Mr El. Eleytherioy pronounced the encomium of the day. A parade of students and wreath laying followed. The day closed with a festive event by the Elementary school and Kindergarten of Psara.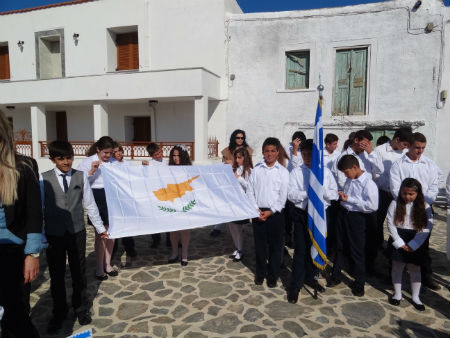 Psara and Lapithos, two places of martyrdom renewed the bonds that connected them and we all hope that this visit was only the beginning for further collaboration of the two Municipalities.