Mayor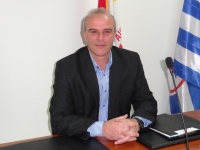 Kostas Vratsanos was born in Chios in 1967 from Georgios and Evangelia Vratsanos, the gender Koutsodontis. He finished the elementary and junior high school in Psara, while in 1985 he graduated from the 1st High school of Chios. The same year was imported in Ralleion Pedagogic Academy of Piraeus where he graduated  in 1987.
Since 1991 he works in the first degree education, while since school year 1992-93 undertakes head of Elementary School of  Psara.
During the program of the professional upgrade of teachers (adjustment) in 2007 he  takes the degree of Pedagogic Department of Elementary Education of Kapodistriakon University of Athens. 
In the municipal elections of 2002 and 2006 is elected as municipal adviser with  "PSARIANI ANAGENNISI" ("PSARIAN REBIRTH"). For 6 years was  the chairman of Municipal Council of Municipality of Psara (2003-2004 and 2007-2010)
As the Head of "PSARA - NEA EPOCHI" ("PSARA - NEW ERA") he won in the municipal elections 2010 with a percentage of 53,79%.
He is married to Aggeliki Andriana and has two children Evangellia  16 years and George 12 years old.