Mayor's Salutation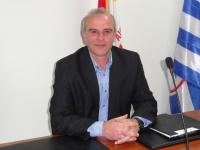 Friends  and compatriots,
I welcome you in the new web page of our municipality, faithful in the principle that "responsible citizen is the informed citizen".
It is an unquestioned fact that the possibilities that are provided via the internet for communication and information open a new gate in the daily communication with the residents, the visitors and the friends of our municipality and our island.
The new web page of Municipality of Psara comes to cover the need of direct, responsible and valid information for all that happen in our place, placing the technology in the service of citizen and simultaneously the citizen in the center of developments.
We aspire to provide a functional and integrated online tool that will function both  as transmitter and  receiver and will constitute a constant step of dialogue and a channel of communication, so that the obstacles of time and distance to be exceeded and recording of opinions and proposals for the all subjects that concern our municipality to be  facilitated .
 In this way each of our co-citizen , who is  the final recipient of projects carried out and the services that are offered, will have prevalent role and will be found in the centre of information and decisions. 
Friends , our place is beautiful, dowered from the nature while the same time "carries" a very rich historical and cultural heritage. The municipal authority works for the eminence of all its comparative advantages, works for a municipality more functional, more human, equal to  its history and with a feeling of responsibility toward the next generations. We envision, we plan, we materialise. In this  effort we cannot and we should not  be alone us. We want all of you that  love our island  as fellow-travellers .
The web page of our municipality is an additional mean that we believe that it will contribute considerably in the achievement of above objective. Our effort to actualise and to multiply the available information and services will be continuous.
Have a nice tour
The Mayor of Psara
Vratsanos Konstantinos
---
Tuesday, December 10, 2013
Tuesday, October 29, 2013